TEMPERATURE & THERMOCOUPLE PROBES
BARE WIRE * INSULATED * GROUNDED
* RADIATION SHIELD * ASPIRATED

For high and low temperature probing and measuring total temperature.
United Sensor's Temperature/ Thermocouple Probes are used to measure total temperature of air, gas, or liquids in Industrial, Aircraft/ Missile and special purpose applications. These probes measure up to 2000°F in velocities from 100 to 2000 ft/sec. A complete line of Exposed - Loop, Insulated Junction, Grounded Junction, Radiation Shielded, Stagnation Shielded and Aspirated probes are available. All probes are primarily constructed of stainless steel.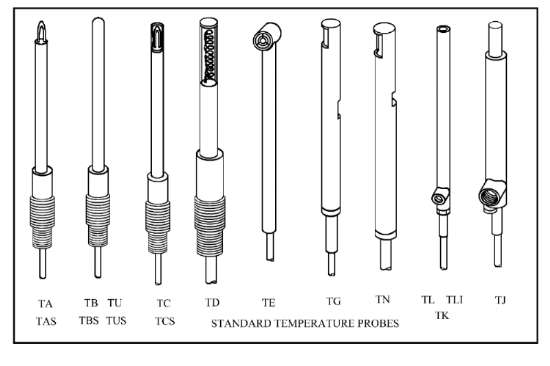 Why measure the temperature of a flow?
In order to determine the thermodynamic characteristics of a flow, it is necessary to find the Total Pressure (Pt), the Static Pressure (Ps) and the Static Temperature (Ts). In practice, it is difficult to measure the Static Temperature. To overcome this difficulty, it is common to measure the Total Temperature (Tt) and use adiabatic equations to determine the Static Temperature: