TEMPERATURE PROBES & THERMOCOUPLES
Temperature/ Thermocouple Probes For Zone 5 Use
TE:
For high temperature medium velocity,
Zone 5. Wide shield spacing minimizes
blocking due to carbon deposits.
Radiation Multi-Shielded sensing head,
stainless steel stem for use in gases.

Standard diameter: 3/8"


TG:
High temperature, high velocity, Zone 6;
also Zone 5 where space limitations are
important. Less likely to damage by liquid
fuel burning on surface of probe when
used near burner because of separating
action of flow reversals through probe.
Pressure tight to 1000 psi. Stagnation and Radiation slotted external shield,
thermocouple insert made of mineral
insulated cable.

Standard diameter: 3/8"

TN:
Can be used in Zones 2, 3, 4, 5, and 6. The standard design is non-removable with stagnation slotted external shielded thermocouple element for use in clean gases. However, the thermocouple element can be manufactured to be removable for calibration and polishing upon request.

Standard diameter: 1/4"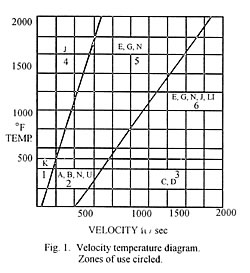 Ordering Information

Typical Example: TG-8-K-36-W-J

TG:
Type TG
8 :
a = 8 " - Probe length
K:
Type of thermocouple wire:
K = Chromel - Alumel Thermocouple
J = Iron - Constantan
T = Copper - Constantan
E = Chromel - Constantan
36:
g = 36" - Lead wire length. Plugs or Jack terminations are available.
W:
Welded - T/C tip joining compound
J:
d = 3/8" - Probe diameter